MBFWB | MERCEDES BENZ FASHION WEEK BERLIN A/W 2013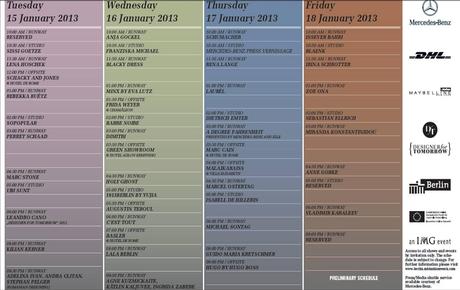 Only 13 days left for Berlin Fashion Week. I'm sure this will be an amazing time and I really can't wait for it. Just because of your support I'm allowed to attend such big evens, therefore I wanted to offer one of you (as also in the last 3 seasons) the chance to visit a show with me and doing some small talk. I'm so excited to meet one of you but before I'll start with the giveaway I wanted to ask which show you'd like to visit with me. It would be nice if you leave a comment below. I'll select a show in the next few days..
Noch 13 Tage, bis es wieder Zeit für die Berlin Fashion Week ist. Ich bin mir schon jetzt sicher, dass es wieder eine spannende Zeit wird und um ehrlich zu sein, kann ich es wieder einmal kaum erwarten. Ich kann es gar nicht oft genug betonen, aber ihr seid der Grund, weswegen ich solch große Events besuchen darf und daher möchte ich einem vom euch(wie bereits in den letzen 3 Saisons) die Möglichkeit bieten mich zu einer Show zu begleiten und uns etwas zu unterhalten. Ich freue mich riesig einen meiner Leser zu treffen, doch bevor es losgeht, wollte ich erst einmal fragen, welche Show ihr denn gerne mit mir anschauen wollen würdet. Ich bitte euch dazu ein Kommentar zu hinterlassen. In ein paar Tagen werde ich mich für eine Show entscheiden.
BERLINFASHIONWEEK , JASMIN , MYBERLINFASHION